Athletic Tradition Created in First Annual Ward Melville Volleyball Tournament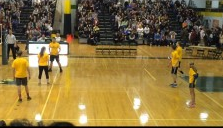 Ryan Fan, Sports Editor
December 14, 2014
At 1 p.m. on Friday, December 12, approximately 1200 juniors and seniors assembled in the gymnasium after a school day of shortened periods. After a tumultuous period of students struggling to find and sit with friends in the midst of a sea of teenagers, Mr. Muscarella's voice roars, naming the first competitor. After all the names are announced, the final match begins.
The tournament began as a tentative idea in junior and senior physical education classes as each class began its volleyball unit. The P.E. department drafted a proposal to Assistant Principal Rosanne DiBella, who later approved the tournament to take place during gym classes and culminating in a final championship game at the end of the shortened day on December 12.
After a brief overview of volleyball rules, each class began the tournament by having students draft players onto their team, in a system where each student despite his/her athletic ability or level of effort had to be drafted. Each team would then participate in a six game preliminary round to determine seeding for the class's playoffs, where teams would then participate in a single team elimination tournament until one team was left standing in that class. The remaining teams were pooled into conferences based on ACE or BDF gym classes.
With one team representative from each class, the pool of teams remaining was then narrowed during separate, randomly seeded single elimination rounds hosted after-school for ACE and BDF representatives, with teams staying 40 minutes after-school on Thursday and Wednesday respectively to become conference champions. On Thursday afternoon, only two teams were left standing: one representing ACE gym classes and one representing BDF.
The ACE team consisted of seniors George Zenzerovich, Jayne Green, Luke Sugrue, Aeon Soler, Alex Vignona, and Preston Owens while the BDF team consisted of seniors Sabrina Sam, Briana Brady, James Esernio, Zack Restucci, and John O'Neill and Juniors Brandon Nwoji, Michael Montoya, and Shane Torrico. Since the BDF team had recruited two extra players, two players on their team had to sit on the bench during each play.
Due to time constraints, the final game could only be won by the first team to win two matches to 21 points. In the first game, the ACE team stormed out of the gates with a 9-3 lead, and sustained the lead through impressive efforts and at times sheer luck. The game progressed until the ACE team had victory of the first game within reach with a score of 19-15. The ACE team called a brief timeout to discuss strategy to secure the game. Out of the timeout, the BDF team rapidly won four games to tie the game at 19-19, and finished the comeback winning the next two games, and winning the first game 19-21.
During the second game, the ACE team again stormed off to a quick lead with the score 7-3, before the BDF team mounted a stunning comeback, obtaining a commanding lead at 16-10. The BDF team held onto their lead and secured a 21-15 victory to win the tournament.
I feel so lucky that I was able to have an experience like this before graduating from Ward Melville. I loved how the school really 'hyped up' this tournament (the music, microphones, cheerleaders, national anthem, the team shirts, and all the spectators). It was pretty nerve wracking knowing that all these students and teachers were watching, but it also motivated me to play as well as I could," said senior player Sabrina Sam. "My team and the opposing team both had great combinations of players so it was tough predicting who would end up winning. Even if we had lost, I still would have been happy knowing that my team and I made it to this point of the tournament."
This was the first annual Ward Melville Volleyball Tournament, which most students and faculty can claim as a success. Even many who did not advance far into the tournament roared in applause during the tournament, and many spectators wished more games were played to accommodate the level of entertainment and school spirit the tournament brought to the student body. As the first time this volleyball tournament was conducted across all junior and senior P.E. periods, there were relatively few mistakes. This first tournament has set the standard for what future Ward Melville students will expect.
"We had a lot of fun out there and at the end of the day that's what I think counts," said senior player George Zenzerovich. "This was a great event and I hope it becomes a school tradition in the future.