The Rise of Christian Araneo, Wrestling State Champion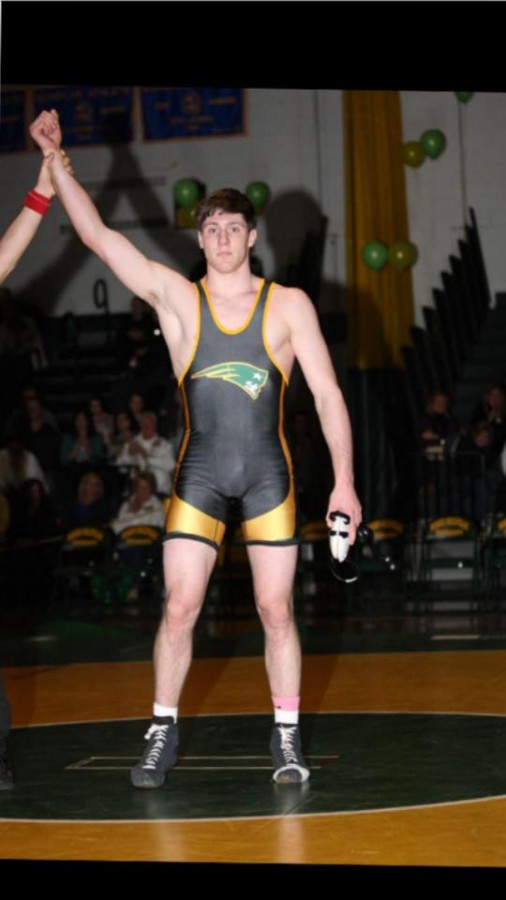 On February 28, 2015, Ward Melville junior Christian Araneo defeated Nick McShea of Monroe-Woodbury 13-4 to win the NYPHSAA State Championships in the 195 pound weight class, winning his first, and likely not his last, state title. His competitor, Nick McShea, had an undefeated season record of 40-0 going into the match. At the end of the match, McShea had a record of 40-1.
"It was pretty exhilarating," Christian said. "From not placing in the county the year before and then winning states this year, it was definitely a great feeling."
His road to the final match featured mainly dominating victories over his opponents. In the final round of the Section XI County Championships, Christian pinned his opponent, Tom Stevenson of Sachem East, in only 1:56 to earn a decisive and seemingly easy victory. As he advanced to the State Championships, he had his most challenging match in the quarterfinal round against Deny Tavarez of Freeport, a wild card wrestler who had been widely projected to be the second seed of the 195 weight class, but had been upset in the Section VIII Championship finals. As a result, he was under-seeded going into the tournament, and faced Christian early in the second round.
The match ended very close, with a 4-3 decision in Christian's favor, a relief to him, and his coaches and supporters alike.
"It was one of the scariest matches I've had in a while and it was definitely hard to keep my focus," Christian said. "But once I won it, I knew from there on out every other match was going to be easier than that match."
He went on to defeat Jake Braunsceidel of St. Francis 9-2 in the semi-final round and Nick McShea in the championship round. Having already wrestled and defeated Nick McShea in the offseason, he entered the match confident in his ability to win. Christian ended his season almost undefeated with a record of 43-1.
In 2013, Christian competed in the NSCHA National High School Freshmen Wrestling Championships at Virginia Beach and placed 2nd in the 182 weight class. In 2014, he placed 4th in the sophomore tournament in the 182 weight class. This year, he plans to end his season by entering the junior division on March 27, 2015. But this time, he will be entering as a state champion in the 198 weight class. He aspires to become a nationally ranked wrestler and a national champion.
With a state title already under his belt, Christian has compiled a terrific athletic resume to attract a plethora of college recruiters. After his victory at states, there has been a substantial upsurge in the number of calls from college coaches that probably will not stop until he commits to a college. However with this season still not completed, Christian's main priority is performing well at nationals this week, hopefully with a national championship under his belt too.
"I've worked too long and too hard to lose now," Christian said.
---
Christian was introduced to wrestling in the 3rd grade by his football coach at the time. Since then, he has grown such a passion for the sport that he quit not only football, but also all of his other former sports to devote himself fully to wrestling. When asked what makes him continue wrestling, he responded, "the friends that I've made in the sport made me keep going because they've made it such a great experience for me."
One of the most evident and positive changes on the Ward Melville Varsity Wrestling Team  was Christian's significant improvement from last year's season. He placed 3rd in the League I Championships in 2014 and did not place in the County Championships in the 182 weight class. This year however, he won Leagues, Counties, and States.
During the season, Christian wrestles seven times a week and lifts four days a week, sometimes with an extra practice on the same day. He also maintains a high intensity workout schedule even during the off-season wrestling five days a week and lifting four days a week, in addition to competing for the RaZor wrestling club. According to the Ward Melville Wrestling coach, Bill Desario, "the many hours of off-season work on the mats and in the weight room helped Christian win his first title."
During training,Christian does most of his workouts with his practice partner, senior Donny Donnelly, 2014 All-County wrestler. He attributes much of his success to Donnelly and many of his other coaches and trainers.
"My practice partner, Donny Donnelly, pushed me everyday and just put me in a better place to win States. I also wrestle with my coach Matt Sganga who pushes me hard each time we go at it and makes me a better wrestler," Christian said. "I see all my personal trainers as my biggest inspirations because of what they accomplished. They all did great things in Nationals and in College Nationals that I hope to do as well: Craig Vitagliano, Kyle Cerminara, and Gregor Gillespie. I also look up to Nick Piccinnini and that goes with out saying. He did so many great things and is going to keep doing great things "
Senior Donny Donnelly also made a comment as a testament to Christian's character and work ethic: "Being his practice partner, I can attest to the fact that he is one of the hardest workers I know. Even during the off-season, he wrestled 4-5 days a week, never really taking breaks. He undoubtedly deserved to win the State Championship."