Track Star Charlie Theiss Breaks Not One, But Two Records At Nationals
Senior Charlie Theiss achieved success at this year's New Balance Indoor Nationals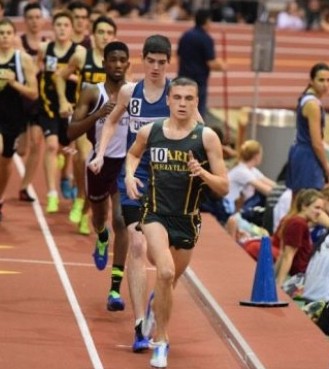 At 6:30 p.m. on Friday, March 13th, 2015 at the New Balance Indoor Nationals, Charlie Theiss crosses the finish line in second place in the nation, with a new personal record of 1:53.96, the fastest indoor 800m time in Ward Melville history, thereby setting his third school record (including the 1000m record of 2:30.35 and the 4x800m record of 8:06.31).
At the starting line, Charlie waits with seven other elite high school runners anticipating the start to the fastest heat of the New Balance Indoor Nationals 800m. The official yells, "take three steps behind the line!" Approximately 20 seconds later, the runners hear the words "on your marks!". Charlie and the seven others step up to the line. A loud sound bursts from the gun, and Charlie is off, pumped, yet relaxed and comfortable behind senior Tayvon Burris of Virginia and three other runners.
The lead pack charges through 400m at a blistering pace of 55 seconds, but it seems like Charlie is in trouble. Stuck behind a "box" of five runners, including county rival Luciano Fiore of Bay Shore, he is in a bad position to pass the other runners if needed at the end of the race. At 600m with one lap to go, Theiss has broken out of the box and has moved up to third place. He speeds into the last lap and passes a runner to go into second place, and with 150m to go, he is in the perfect place to run a very fast time. He finishes with the time of 1:53.96 in his first open 800m race of the season, shattering his previous PR (personal record) by almost a second. This time is indeed so fast that it would have earned him a victory at last year's state championships in the 800m by over half a second, which he made and excelled in.
"It was great to finally be able to run an open 800m (my favorite event) again since we don't get to run it that much in the winter season." Charlie said. "Being able to set a big PR was awesome."
On March 14th, 2015, Charlie participated in the Sprint Medley Relay (abbreviated SMR) with fellow seniors James Laguerre, Ryan Jacobson, and Tyler Francisco that placed 9th in the nation and ran 3:32.82. This was yet again another school record, and was a mere .02 seconds off the county SMR record. As the yet again the 800m leg, the longest and last of the relay legs, he was tasked with the greatest responsibility for ensuring the relay's success among the athletes, and did so by running 1:55.6 as his relay leg. Since no other Ward Melville team has ever run the indoor SMR, this time was automatically set as the new school record, and Charlie's fourth school record.
"Charlie had a great indoor season and will go down as one of, if not the best middle distance runners in Ward Melville history, with school records in the 800m, 1000m, SMR, and 4x800m relay." said Ward Melville Distance Coach Gregg Cantwell. "I'm blessed to be able to walk into a situation where a runner like Charlie was already in the school. You rarely come across athletes like him."
What's even more astounding is that Charlie Theiss has just finished his winter/indoor track season. For the average runner/athlete, the page has already turned to the spring season on the outdoor track. As the indoor track is only 200m while the outdoor track is 400m, and there are less turns on the track to deal with, runners typically run tremendously faster outdoors, a prospect that is extraordinarily frightening for Charlie's rivals. With three trips to the NYPHSAA State Championships already under his belt, it's extremely likely that this spring will be a fourth.
"In spring, I want to break the 800m outdoor school record of 1:52.7 by Ryan DeLuca and the 4x800m record with the team," Charlie said. "Most of all, I'm planning on making states again in the 800m and having no regrets during my last season."
Charlie has committed to Columbia University, and is awaiting his official acceptance on March 26, 2015. Columbia is widely known for its elite track program that is consistently ranked at the top of the Ivy League, as well as for its exceptional academics.
---
Even more extraordinary is Charlie's story of progress since joining the Ward Melville Varsity Cross Country team in the fall of 2011. As a quiet, reserved freshman, his average performances were often overlooked and unnoticed by his teammates and then coach Jerry Vessichio. His freshmen best performance in the mile of freshmen year was 5:16, not terrible but behind times of freshmen peers on the team that ran under 5 minutes. He was often not taken to meets not because he lacked talent, but because he was not noticed amidst the peers overshadowing him.
But what he lacked in talent in at the time he compensated for in hard work. Over the summer of 2012, when most runners regularly take days off running or don't run at all, Charlie attended every informal practice every day of the summer. Usually, alumni Alex Fitzgerald, Vincent Cicale, and Lloyd Webb ran at such a ferocious pace that Charlie fell behind within the first 20 minutes of each run. But that did not deter him. He still came to every practice, and he still gave his best effort no matter the frustration.
At the end of his sophomore cross country season, Charlie ran a mile time trial in a new personal best of 5:05 in his training shoes (runners usually wear "flats" or "spikes" for races because they're much lighter). Again, his teammates barely noticed and didn't congratulate him, and Coach Vessichio went about as if nothing happened because others had run faster.
On January 12, 2013, the Ward Melville Winter Track Team went to the New Balance Armory to participate in a routine weekend meet. Charlie Theiss was entered as the last person on the team in the 1600m, and stepped up to the line with most other team members not even aware he was in the race. Some teammates were in the Fort Washington area eating pizza or McDonald's, some were playing on their phones and taking selfies on the infield to put on Instagram, but a few gathered to watch the sixth heat of the 1600m, quickly losing interest.
Charlie went out in the race with the leaders, running his first 800m in 2:20. At the time, those watching the race, myself included (as his teammate), believed that he ran the first half of the race too hard. He wouldn't run nearly as fast in the second half of the race. However, to our surprise, Charlie didn't slow down much. He finished his race in 4:48, beating his old PR by 17 seconds, causing all of us watching to shout so loudly in bewilderment that surrounding teams left the area. When Charlie walked off the track, we hugged and congratulated him. Whenever anyone asked him about his race, he responded in his now signature process: he rolled his eyes and said halfheartedly "it was okay," shocking us because he didn't seem excited at all.
But in that spring season, he ferociously proved he wasn't a one hit wonder. He PR'd in the mile by 10 seconds to run 4:38, and ran the second fastest leg in the 4x800m at the end of the season to run 1:59, the first time he ran under 2 minutes in an 800m race. That year, he won the "Most Improved Player" award twice , once during the winter season and once during spring season.  The next year, he would go on to win MVP under new coach, Gregg Cantwell,  in all three running seasons: Cross Country, Winter Track, and Spring Track.
During his sophomore year breakout season, Charlie bought a shirt from the Copiague Invitational that was made in memorial of Christopher Urban, a 16 year old local high schooler who died suddenly in his sleep in 2010. The quote on the back said, "hard work beats talent when talent doesn't work hard". The next season, Charlie wore that shirt often during workouts and regular runs. In a way, his story is a testament to that quote, a personification of hard work, combined with extraordinary talent.
And he still has one season to go.