Hurricane Ian Leaves Many Homeless, Powerless, and Helpless in Florida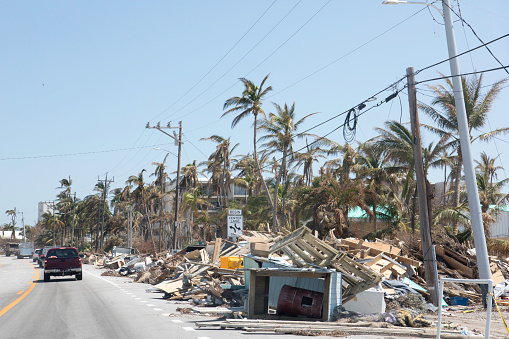 On September 28, Category 4 Hurricane Ian made landfall in Southwest Florida, killing over 100 people, mostly due to drowning. 98 of the reported deaths were in Florida, making Ian the third-deadliest storm to hit the U.S. mainland this century. The death toll continues to increase.
Ian had winds over 150 miles per hour and storm surges at 12 feet, leaving 2.6 million homes without power and many buildings destroyed. The hurricane wiped out entire neighborhoods, tossed boats and cars around, swept away beaches, and sank homes in high waters. Residents, such as Milissa Sprecher of Sanibel Island, are unable to recognize their communities and towns. "Where are we?" Sprecher said, according to CBS, "I can't even tell." The cost of recovery is estimated to be well over $100 billion. 
Alongside the severe damage the hurricane caused, it also took a toll on the residents' emotions. Mental health concerns are rising,  greatly aggravated by the trauma of Hurricane Ian. Jennifer Horney, an epidemiology professor at the University of Delaware, said that research has shown that between a third and half of those who survive a disaster develop some type of mental distress.
"I'm trying to make it to the next day," said Alice Pujols, according to ABC, a resident of Fort Myers, Florida. "That's all I can do. It's really depressing. It really is."
Pujols is among numerous residents trying to salvage everything they possibly can amidst the damage.
To combat the mental health crisis, Florida has set up support centers, and the federal government has a 24-hour disaster distress helpline to provide counseling and other support. 
Many are booking hotels and Airbnbs to accommodate their need for shelter. Public schools were available as shelters; however, as the schools reopen, many people must relocate. Shanika Caldwell took her nine children to a mass shelter inside the Hertz Arena after a shelter at a public high school shut down so classes could prepare to resume. 
President Joe Biden recently visited Florida to assess the damage of the Hurricane. Biden was greeted by Florida's Republican Governor, Ron DeSantis, and met briefly with GOP Senators Marco Rubio and Rick Scott. According to NBC news, Biden said, "The key here is building back better and stronger to withstand the next storm." Despite their political differences, Biden and DeSantis are coming together to aptly respond to the crisis in Florida. The Biden administration has been in contact with DeSantis throughout the storm and promised to send federal aid to the state.