Trump vs. Cuomo: An Evaluation of Leadership in Response to the COVID-19 Pandemic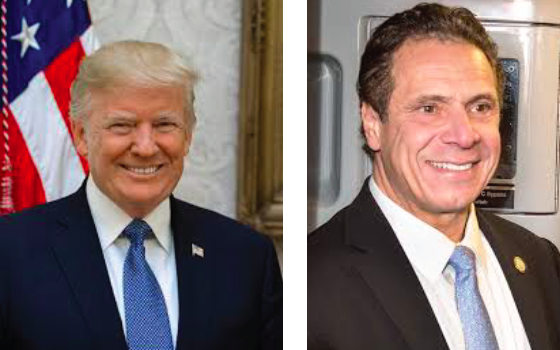 Today, United States President Donald Trump and New York Governor Andrew Cuomo have taken starkly different stances on how to lead effectively, as evidenced by their at times contrasting responses to the COVID-19 pandemic.
Throughout his administration, President Trump has been on the receiving end of much backlash, mostly from Democrats, regarding his leadership. Critics have called him impulsive and irresponsible, citing, among other things, his tweets that are often factually inaccurate or that his aides try to reverse-engineer to be true.
Although he has served as New York State Governor for three terms, Governor Cuomo has not always been very popular either. He has been criticized for being aggressive, cold, and at times hostile to other leaders, such as New York City Mayor Bill de Blasio.
Both leaders began their response to the pandemic confident, assuring constituents that their administrations had everything under control and that the Coronavirus was a manageable threat. In a March 2nd press conference, Governor Cuomo said that the state was "fully coordinated, fully mobilized, and fully prepared." President Trump repeatedly downplayed the virus, such as in a March 9th tweet where he insinuated that the flu is much more devastating and deadly than the Coronavirus. 
President Trump's first concrete action in response to the pandemic was in late January, when he limited travel from China to the United States. This was contrary to the advice of the World Health Organization, who had said that travel bans were not necessary at that time. We now know that the travel restriction was a move in the right direction, though it was not as strict as it should have been.
Governor Cuomo was reiterating how prepared and capable New York State was until early March, when the number of cases in the state suddenly skyrocketed. Cuomo promptly declared a state of emergency for New York on March 8th. Trump did not declare a national emergency until March 13th.
Since the pandemic has become such a widespread issue, both leaders have conducted press briefings to inform both the press and citizens. Because these press briefings are televised, streamed, and accessible to everyday citizens, they have been the main method people use to evaluate Trump's and Cuomo's leadership.
Trump's press briefings are often confusing and misleading, where the president cites false figures and says that his administration took actions that they actually have not taken. Many of these conferences are characterized by blaming, where President Trump blames the states, the governors (especially Cuomo), the media, Obama, or China for the devastation of the virus. He  rarely takes any responsibility, unless for a positive outcome. Recently, many of Trump's press briefings have turned into outright campaign rallies. 
Cuomo's press briefings are arguably what catapulted him to national attention, because of their brutal honesty, which is imperative in a time of so many unknowns. Cuomo's briefings are characterized by a focus on facts and statistics. He is honest about the devastation and cautious about celebrating good news, yet ends each briefing with a message of hope and solidarity. These honest, straightforward briefings greatly contrast with Trump's briefings.
Trump and Cuomo have also clashed over the invocation of the Defense Production Act, a Cold War-era law that allows the federal government to mandate that private sector manufacturers switch over to manufacturing products (in this case masks, hospital beds, ventilators, etc.) that are imperative to the country's security. Cuomo, faced with the severe lack of resources of New York State hospitals, pleaded with Trump throughout March to invoke the DPA. Trump refused, calling the act anti-American and an impediment to the free market, until he finally invoked it in late March.
Further evidence of Trump and Cuomo's clash over distribution of resources can be seen in their public negotiations via press briefing throughout March and April. Cuomo provided statistics and quotes from hospitals, detailing how they are overworked, understaffed, and don't have nearly enough resources to accommodate the enormous influx of COVID-positive patients. The federal government did ultimately step in with assistance, by calling in the National Guard to assist and providing some resources for hospitals. 
Trump has indicated that his policy is to meet the needs, not wants, of the states. For example, in late March, Cuomo asked the federal government to provide New York with 30,000 ventilators. Trump sent 4,000. Cuomo's response was a pithy "You decide the 26,000 people who are going to die." When information emerged that New York did not, in fact, need all 30,000 ventilators, Cuomo gave the extra ventilators to other states, and explained that his request was based on projections and statistics that came straight from Trump and his aides.
Domestically, Cuomo has been praised for mobilizing the state efficiently and productively. New York hospitals that were overwhelmed quickly increased their capacities by 50%, and Cuomo facilitated more interconnectedness between public and private hospitals, so that patients from an overwhelmed hospital can be quickly transferred to another. 
Cuomo also took actions to protect everyday New Yorkers from the Coronavirus. In mid-March, he closed schools, and invoked "Matilda's Law," named for his elderly mother, to encourage practices to help protect New York's most vulnerable populations. Cuomo encouraged social distancing procedures by limiting operations of non-essential workers by 50%, then 75%, and then by 100% when he put New York State on PAUSE on March 20. He attributed the recently reported decrease in the infection rate to these NYS PAUSE measures. In addition, although testing was initially stalled, Cuomo expanded testing significantly, to the point that New York has become the highest in the country in testing per capita.
Trump has indeed approved measures to alleviate the stress on states, such as giving nearly $700,000 to a testing company to increase the nation's testing capacity, and sending aid in the form of money and medical resources directly to the states. However, it is glaring how the president has acted against advisory warnings and taken counterproductive measures.
Most noticeably, Trump has openly defied the social distancing advice of leading health officials: he was holding large campaign rallies up until mid-March, and recently tweeted support for protestors in states like Michigan and Minnesota that are pushing for their states to be reopened before it is safe. Trump also advocated for the use of untested drugs to treat the virus, falsely claiming that they had been approved by the FDA. Trump even recently pulled US funding for the WHO altogether, claiming that they mismanaged the virus, which plays into his perpetual blame game.
However, despite their mix of successes, shortcomings, and clashes, both Cuomo and Trump have undoubtedly been working incredibly hard to manage the virus and keep their constituents safe and healthy. We are in unprecedented times, and to come out on the other side, we are going to need not only effective leadership, but bipartisan cooperation and unity. As Cuomo recently said on the topic of the politicization of the response, "This is no time and no place for division… We need unity now more than ever before."