Dear Evan Hansen Field Trip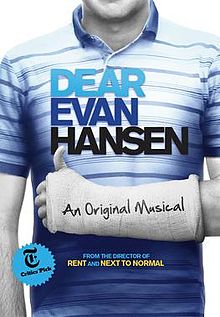 Members of Ward Melville's chorus and Tri-M Honors Society went on a field trip on April 10th to see Broadway's new musical, Dear Evan Hansen. Students left school halfway through ninth period and arrived at the city to have a family-styled dinner at an Italian restaurant, before heading off to the theater to enjoy a fantastic night of Broadway magic.
The musical is written by the songwriting duo Pasek and Paul, and stars Pitch Perfect's Ben Platt along with former Glee star Laura Dreyfuss. From the official site, Dear Evan Hansen is about "A letter that was never meant to be seen, a lie that was never meant to be told, a life he never dreamed he could have. Evan Hansen is about to get the one thing he's always wanted: a chance to finally fit in." The show features a high school senior suffering from social anxiety disorder, who finds himself in a troubling situation after the death of a classmate. Through hit numbers like "Requiem" and "You Will Be Found", Dear Evan Hansen manages to tackle themes of death, family, and growing up.
When she was asked what she liked about the show, Renee Clairvoyant, a sophomore, replied, "Everything! The music was so well composed, the set was so amazing…the cast had EIGHT people, and yet they blew every ear out with such beautiful voices. The characters and story were so relatable, especially for like, a depressed teenager. Like, I BALLED during intermission and the second act."
Renee, like other classmates on the field trip, really enjoyed seeing the musical. "Okay, okay, it was AMAZING," she admitted with excitement. "I would go a hundred more times!"