Is Hamilton Worth the Hype?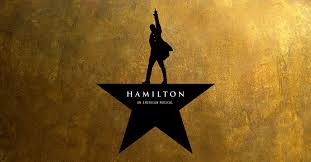 The Tony Award winning musical Hamilton combines American history with today's pop culture, drawing attention to the life of one of America's often ignored founding fathers, Alexander Hamilton. It is based on the 2004 biography Alexander Hamilton by Ron Chernow, and created by Lin-Manuel Miranda, who also starred as the title character in shows until this July.
Even though it first opened on Broadway over a year ago, on August 6th, 2015, Hamilton continues to be widely popular among many students at Ward Melville, and they aren't alone. The show is on track to become one of Broadway's biggest commercial hits ever, and its success may have even saved Alexander Hamilton from being taken off the $10 bill.
Hamilton owes its success mainly to its stunning music and unprecedented diversity, combining traditional Broadway sounds with rap and R&B to create a unique kind of composition, performed by a cast with many black and Latino actors. Its cast album, which premiered in September 2015, has also been immensely popular, and was named the highest-selling Broadway album of 2015.
Tickets for Hamilton have been notoriously difficult to obtain, and the show is currently sold out until August of 2017. The only way some students can try to obtain tickets is by winning the Official Broadway Digital Lottery, specifically for Hamilton. Through the Hamilton Lottery, several Ward Melville students, including sophomore Haley Linden, were able to see the show.
August 31st, 2016 began as a normal day for Haley. It was actually the day of the Ward Melville Sophomore Orientation and Walkthrough, where, ironically, she talked with a friend about how frustrating it was that a bunch of other people had already seen the show, but they hadn't. That afternoon, however, her family won the Hamilton Lottery. She recalls, "My dad shows me [the confirmation that they won tickets] and I start crying, and I'm like screaming. So I call my mom and I'm like shaking—when you experience something like that you start freaking out and shaking—and all the emotions start kicking in.
The entire experience was magical from start to finish, including mundane moments such as when everyone entered the theater. As Haley explains, "As a fan, you see all these pictures [of the theater online], and walking in, you're like 'Wow, like I cannot even imagine that this is happening!'" The tickets reserved for the lottery winners are generally in the front row, and Haley's seat was front row, center stage, which allowed for a clear and intimate view of the show and actors.
Overall, Hamilton has gotten exceptional reviews from many influential people, from the Obamas to celebrities like Oprah, Jimmy Fallon, Emma Watson, and Beyonce. It continues to be a major success, and deserves all its accolades. As Haley concludes, "Basically, it is so worth the hype. It is such a wonderful experience, and totally worth it…even if you might not be able to see it until like 3 years from now."
Although Hamilton tickets will likely continue to be near impossible to obtain, ardent fans do have something else to look forward to: The Hamilton Mixtape. The mixtape will be an album featuring select songs from the show's score, performed by various well-known artists, including Sia, Usher, Kelly Clarkson, Alicia Keys, Wiz Khalifa, and John Legend. Preorders began on November 4th, 2016, and two songs have already been officially released: Kelly Clarkson's version of "It's Quiet Uptown" and The Roots' interpretation of "My Shot."