Another Glorious Year at States for DECA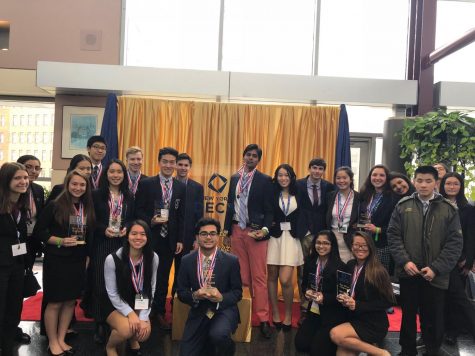 This past month, 26 members of the Ward Melville DECA club competed for top spots at the annual New York State Career Conference. Eleven competitors placed top five in their respective events, and will be moving on to the international competition known as ICDC in Atlanta, Georgia next month. The competition took place from March 7 to 9 and hosted over 2,000 high school business students from New York.
DECA members have the option to compete in over 40 team and individual events, ranging from the "entrepreneurship" cluster to the "hospitality and tourism" cluster. Events are either on-the-spot or prepared by students beforehand.
There are three parts to on-the-spot events: the test, role play 1, and role play 2. Students take the test for their event online in early February at school, and will do their role plays in March at the State Career Conference. Role plays require students to be quick thinkers with great expertise in the event that they have chosen, as students are given the role play topic just ten minutes before they have to meet with a judge. For example, in a role play for the event "Hotel and Lodging Management", each participant was given just ten minutes to brainstorm how to attract visitors to the fictional bed and breakfast that they were the "manager" of. Then, participants were given ten minutes to convey their ideas to the judge, who was the owner of the bed and breakfast in this example. Many participants believe that role plays are great ways to improve one's communication skills. Varsha Talanki, a junior who participated in an on-the-spot event, says, "Personally, I believe that role plays are especially helpful. I have seen a lot of growth in my public speaking ability and confidence in talking to others."
Besides on-the-spot competitive events, there are some presentation events which require careful planning beforehand. Student who participate in these events usually create poster boards and booklets to propose new business ventures and products. Will Jin, a senior who participated in the "Independent Business Plan" event, describes his experience: "Essentially, we were given unlimited resources to develop a company which provides a service or product. As part of the event, we drafted a 20-30 page business plan and proposal to persuade the judge, who is the venture capitalist or investor, to invest in our company. Along with that, we were given the liberty to create a display or visual for ease and clarification of logistics within the product or service."
All in all, the New York State Career Conference proved to be a successful event for all DECA members. Congratulations and best of luck to the following members who will be attending the International Career Development Conference in April: Kelsey Ge, Elizabeth Wang, Anna Ma, Eileen Whelan, Jay Sangwan, Kathryn Zhao, Ari Solomon, Suraj Singh, William Jin, Diego Bennett and Varsha Talanki. Additionally, the following members placed top 10 in the state: Jade Eggleston. Jonathan Huang, Priya Mukhi, Dara Berman, Katie Zhao, and Ashley Zhang.
To learn more about Ward Melville DECA, visit https://decawm.wixsite.com/decawm.