Girls Track Honors Coach Youngs's Final Season with a League Championship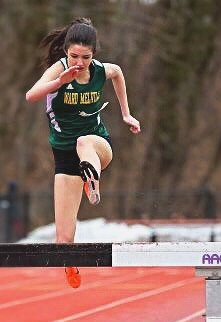 On May 5, 2015, the Ward Melville Girls Track and Field Team defeated Commack to win a League I Championship with a score of 90.5-58.5. The team was led by seniors Molly Dearie and Faith Reynolds, who both won multiple events to secure the dominant victory for the team. Molly won both the 1500m and 3000m while Faith won races in the 200m, 400m, and was the anchor leg in the 4x400m relay.
"I went into this season with no doubt in my mind that we would be league champs," Faith said.  "This title is just proof that if you set goals for yourself, they will come to fruition if you work hard."
"Being league champs two years in a row is awesome," said senior Maddy Blanthorn. "We worked really hard and after graduating a lot of great runners, I'm so happy to go undefeated my senior year."
This marks the girls' second consecutive League I Championship, as the team looks forward to the end of its season with Division Championships and State Qualifiers coming soon. Many who qualified for these meets look to improve upon their already stellar PRs (personal records) and potentially qualify for the State Championships.
Senior Molly Dearie is the frontrunner to qualify for States in the 2000m steeplechase, with the county best time of 7:06.91 in the event. To qualify, she needs to either run the state qualifying standard time, which she is less than two seconds away from, or win State Qualifiers in the large school section.
"State Quals is going to be big this year because I have a huge chance to win, so the goal is obviously to win and do so under the 7:00 mark," Molly said.
But this season is special in more than one way: Coach Tom Youngs will stop coaching Track after this season. However, he will continue being the Cross Country Coach in the fall. To honor his final season, the girls earned Coach Youngs yet another league title, and will seek to end the season with a bang in the final weeks of the school year.