The Perks of Being a Senior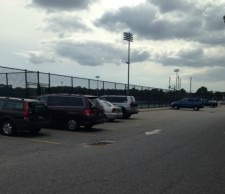 As classes begin and students return to the daily routine, seniors are already experiencing the stresses of their final year of high school, namely ACTs, SATs, AP classes and college applications. Senior Sam Kepes says, "It feels like yesterday that I was graduating from Setauket Elementary School, it's crazy that I am a senior right now. I would have to say that I'm both nervous and excited about senior year. I'm excited to go to college… [but] I'm nervous to leave all my family and friends. This year is…[going] to be the best school year of my scholastic career."
Despite the stresses, students are also beginning to understand what it means to be a senior at Ward Melville and the perks to being one. To elaborate, 12th graders with a registered vehicle and a parking permit have the option of driving to and from school as well as the benefit of parking in the student lot, located behind the tennis courts on the north side of the school. Senior, Emily St. Pierre says, "I have always hated the bus so driving is great for me. I get to come in late, so driving allows me to sleep in. The senior parking lot though can get a little crazy but you learn to avoid the busiest times to leave school and to get there early for the best spots."
Although the school has had closed campus for the past few years, it has created an alternative–an exclusive eating area for seniors only. When it's nice out, 12th graders can enjoy a pleasant lunch or free period at the "Senior Patio," just outside the weight room. Twelfth grader, Allana Rosenberg says, "In the beginning of the year I'd go out for 9th when it was nice out, and 5th during lunch sometimes if I didn't have work to do. Either way when it's warm out it's so nice to go out there." Aside from access to the "Senior Patio," possessing a Gold Card can grant students numerous luxuries. The Gold Card is considered a hall pass for seniors to go to the commons or cafeteria and provides students the opportunity to leave the library early. In addition, it serves as not only an I.D. but also proof of the senior status.
Late arrival and early dismissal have generally become options only for students in their last year of school. This privilege allows students with valid Gold Cards to arrive at school a period or two later or to leave following 8th period if their schedule permits it. This allots for more time to sleep or to get prepared in the morning or to have an early break or to make a midday Tropical Smoothie run at 1:00pm. Rosenberg responds, "I love it! It's such an awesome way to start the day, [having late arrival] considering I'm barely awake and functioning, especially with 4 AP classes during the day. Having off ninth period is great to relax a bit and hang out with some friends before I go home."
Other advantages of being in senior year include having the option of an "empty" in your schedule compared to lunch or an assigned study hall as it is for sophomores and juniors. Regardless of their plans for the future, students also are visiting college and have up to five excused absences to do so. Finally, seniors have priority and are entitled to first choice for courses and electives as well as driver's education. St. Pierre says, "[In regards to senior year I'm]  extremely excited! My classes are hard and college applications are stressful but I've already made some amazing memories this year. It is crazy to think I won't be a Three Village student anymore after June." Therefore whether students are picking up their Senior Chix jerseys or studying every night to keep up with their rigorous 12th grade schedule, enjoy the perks of being a senior this year because it only happens once.