BTS and the Korean Wave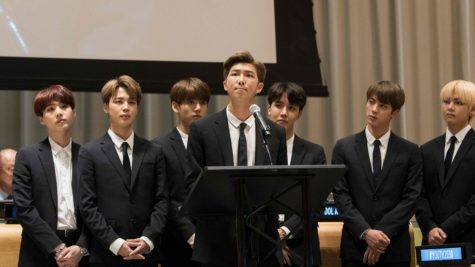 Korean pop (K-Pop) music is thriving in music charts globally with K-pop groups such as BTS, Blackpink, and Super Junior collaborating with American and Latin American artists, winning award shows outside their native countries and frequently breaking records in these charts. BTS has especially been prevalent in the United States since they won the Billboard Top Social Artists Award in 2017 and again the following year.
The group has said this is all thanks to their fans they have been able to expand globally, along with social media. BTS performed during the AMAs in November last year with a surmounting amount of supportive fans, even RM (BTS' leader) speaking in front of the United Nations and performing in the Korea-France Friendship Concert in Paris.
The group has currently come out with their first all English song, "Waste It On Me" collaborating with Steve Aoki again. BTS is soon to collaborate with Charlie Puth on November 6 at the 2018 GMA. Other Korean artists have praised BTS for promoting Korean Culture in an beautifully artistic manner.
K-pop has become a popular trend in current pop music, but there are split opinions on the genre. Mason Laine, a student of Ward Melville, said "I don't listen to K-Pop. A large group of people listen to it because it's a new thing in America. I think it's trendy but not cool." But he also added, " I think that even though you might not understand what is being said, you might enjoy the flow of the song or be using K-pop to further your knowledge of Korean language."
Although Mason may not listen to this type of genre of music he feels proud of the acceptance of diversity in the United States. Corrine Ange, a devoted K-pop fan, proudly exclaims she listens to Korean music. She believes there has been a drastic shift of public opinion on K-Pop since 2015 when PSY's hit "Oppa Gangnam Style" became popular internationally. Corrine pointed out that through western eyes, PSY's song was more humorous and most people viewed K-Pop as a "joke," which could be a reason why people have preconceived ideas of the current wave.
When asked why she listens to K-Pop even if she doesn't understand the language, Corrine answered "Many groups have discussed serious topics such as depression, toxic relationships, and more." She also noted that Korean artists tend to defy social norms, with Amber Liu from f(x) or Miya from GWSN adopting more masculine looks and male idols wearing makeup.
Both Mason and Corrine felt Asian representation in the arts and entertainment industries are getting more representation. The film "Crazy Rich Asians" provoked many discussions on how Asians are not portrayed well in films. Mason added "I feel that as more and more Asian families with children are immigrating to America that the children should be able to feel the same connection to our culture through things like movies."
For now, K-Pop groups are continuing to spread their culture through their music. The seven members on BTS recently were awarded Order of Cultural Merit by the South Korean government for spreading Korean culture globally. They are the youngest recipients to ever receive the award at the 2018 Korean Popular Culture & Arts Awards, held at Seoul's Olympic Hall. When receiving the award, member Jin said  "We're often overseas, and many people sing along with our songs in Korean and tell us proudly that they studied Korean. It makes me proud. We'll continue to try to increase knowledge about our culture."