Groundhog Day 2017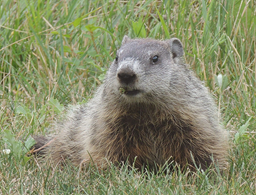 On February 2, 2017, two highly-esteemed furry forecasters predicted contradicting weather forecasts for the upcoming winter season. Nationally famed "Punxsutawney Phil" saw his shadow Thursday morning and crawled back into his hole, meaning that Americans should expect six more weeks of winter. Conversely, New York's representative weather animal, "Staten Island Chuck," did not see his shadow, meaning that spring in coming early this year. Which groundhog is right? Only time will tell.
On February 2, 1887, Groundhog Day was formally celebrated for the first time at Gobbler's Knob in Punxsutawney, Pennsylvania. Although technically not considered a holiday, Groundhog's Day is a popular observance event that has spread throughout the nation. In addition to "Punxsutawney Phil" in Pennsylvania, states throughout the nation have elected their own personal forecasters, such as North Carolina's "Sir Walter Wally" or Ohio's "Buckeye Chuck." The 130th annual Groundhog Day ceremony commenced this past Thursday.
This year's prediction from "Punxsutawney Phil" came at around 7:25 a.m. in, as hinted by the marmot's name, Punxsutawney, Pennsylvania. Although the renowned groundhog claimed to have seen his shadow, the conjecture has been debated by experts who argue that during that morning of scattered snow showers, the sun made an appearance just above the horizon, and was evidently veiled by thick clouds. How then could the groundhog have supposedly seen his shadow when there was little sun to be found?
Last week was not the first time America's "weather prophet" had been challenged. Following an inaccurate prediction of early spring in the year 2013, a year that was characterized by bitter cold and snow well into the month of March, the case of the groundhog was brought as far as court for his "misinterpretation of early spring." The prosecuting attorney in Butler County, Ohio, even sought to sentence Phil to a death penalty. The groundhog was ultimately defended by a Pennsylvania law firm, however, who declared that the Ohio attorney had no jurisdiction to prosecute the groundhog.
Considering the green leaves of spring emerging in the Southeast more than 20 days ahead of schedule, in addition to the record-long 19-day warm streak which took place in Washington D.C. during the last two weeks of January, Phil's accuracy continues to be an enduring source of controversy to this day.
Just before 7:30 a.m., New York's "Staten Island Chuck", in contrast to Phil, observed no shadow on his trail. Though less renowned in comparison to his Pennsylvanian companion, several New Yorkers have chosen to follow the prediction of their very own "Staten Island Chuck", who has an overwhelming eighty percent rate of accuracy, a percentage that makes the thirty-nine percent accuracy of "Punxsutawney Phil" seem quite meager in comparison. But still the question persists: why are we taking advice from a woodchuck?
The Groundhog Day tradition originated from an ancient Christian holiday, Candlemas Day. During Candlemas day in the 17th and 18th centuries, the clergy would bless and distribute the candles needed for the upcoming winter. The number of candles distributed served as an indicator of how long and harsh the winter season would be (as predicted by the clergy). In Germany, the German citizens expanded on this practice by electing an animal, a hedgehog, predictor of the upcoming winter season. When the Germans immigrated to America, settlers in Pennsylvania switched to using the more ubiquitously found groundhog. As the tradition holds, if the groundhog sees his shadow and returns to his burrow, there are six more weeks of winter. If the groundhog doesn't see his shadow, it is spring. Crazy or not, this ritual persists as a popular event that individuals continue to look forward to every year.