Three Village Dances to Support Autism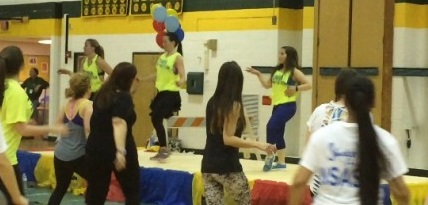 On April 17, 2015, hundreds of parents, students, and staff across the Three Village Central School District gathered in the Ward Melville gymnasium for the SHARP club's 4th annual trademark event: Zumba for Autism. A diverse group of students, ranging from those who had never heard of Zumba before the event to experienced adults who do Zumba regularly to stay in shape, gathered in the gymnasium. After a speech given by Ms. Cusumano, adviser of SHARP (Students Helping and Reaching Peers), and board members of the club, including President Julia Sisti and Vice President Allana Rosenberg, the event kicked off with music playing and three trained Zumba instructors leading a dance at the front of the gymnasium.
Zumba for Autism was an event conceived in 2012 by Ms. Cusumano, a Spanish teacher at Ward Melville. A major inspiration behind the event is her eldest son, Dylan, who will turn 12 in May and has autism. Since she is an active Zumba dancer and Autism Awareness Month is celebrated in April, Ms. Cusumano decided to combine the two to create the event. In the fall of 2013, she became the adviser of SHARP and handed the event to the club. From there on, the event took off.
The SHARP club began planning the event in January, contacting local businesses for sponsorship to organize 58 different raffle prizes. Ultimately, over 60 businesses in the community were represented. In addition, the club invited three professional zumba instructors, Denise Faicco, Kelly Calia, and Kristin Connerton, from Connection of Energy Fitness in St. James to direct the event. Immediately after school at 2 p.m., members of the club began setting up the event, moving tables, raffle prizes and other materials into the gymnasium until 6:30 p.m. when the event began and the motley of students, parents, and teachers danced nonstop for 90 minutes.
"Zumba for Autism is my favorite event because of the charity that we're raising money for and the spirits in the room," said President of SHARP, senior Julia Sisti. "Everybody's so energetic and eager to help and give back to their community."
The event raised thousands of dollars to donate to NSASA, the Nassau Suffolk Chapter of the Autism Society of America. It is a volunteer organization formed by parents who have children with autism that coordinates various events to support these families, including sibling support groups, donations of iPads to classrooms, and community outings to stores. Ms. Cusumano's family itself has participated in some of these outings.
"My family, my boys, have experienced these events. Normally, when you have a sibling with autism it's often 'we have to go to this doctor's appointment because my brother has autism,'" said Ms. Cusumano. "Instead, these NSASA events allow it to be 'I get to go to this museum for the night because my brother has autism.' It turns it around for them."
This marks the SHARP club's second major event of the year, the first being "Three Village Has Talent," an entertainment event showcasing the musical and artistic talents of teachers and students across the district. That event raised over $9,500 in support of Baby Addy Wardrope, the one-year-old daughter of Mackenzie McCormick Wardrope who graduated from Ward Melville in 1999. Since Ms. Cusumano began supervising the club, membership has expanded tremendously from under 12 students to over 40 students attending weekly meetings. She is extremely proud of the club's success, determination, and altruism throughout the year.
"It's a place where students have found a place where they belong," said Ms. Cusumano. "I'm very grateful to be directing a club where the kids' volunteerism is in action, not for points, not for credit, but just because they want to. When they leave here, those are the skills they'll need for life: how to use your life for a purpose."