A Guide to the 2022 Midterm Elections – New York Gubernatorial Election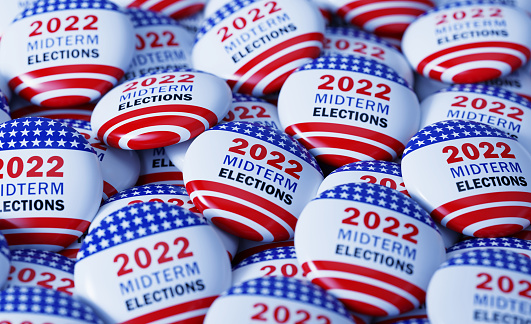 Election Day this year is Tuesday, November 8th, and voters will be deciding between pairs Kathy Hochul and Antonio Delgado, and Lee Zeldin and Alison Esposito for governor and lieutenant governor, respectively. Chuck Schumer and Joseph Pinion are competing for a Senate seat, Letitia James and Michael Henry for New York Attorney General, and Bridget Fleming and Nicholas LaLota for a set in the House of Representatives. Voters will also be electing their representatives for state comptroller, state senator, state assembly member, county comptroller, and county clerk. This midterm election cycle has seen record spending, and control of the House of Representatives and the Senate will be decided. New York's redistricting cycle has been among the most confusing in the nation, and the changing boundaries for congressional, state senate, and assembly districts have caused some issues. Make sure you know which districts you're in and your candidates by going to https://www.vote.org/polling-place-locator/. 
Arguably the most closely watched race in New York this year is the gubernatorial election. The Democratic nominee and current governor is Kathy Hochul, the acting governor and former lieutenant governor, while Lee Zeldin, the current congressional representative for New York's First District, is the Republican challenger. The New York gubernatorial election has seen the Democratic candidate cruise to victory for the past two decades, but this race has been unexpectedly close, with Zeldin making large gains in the suburbs and Orthodox Jewish communities. Democrats worry that their strong bases in Manhattan and Brooklyn are not being sufficiently motivated to vote. In his campaigning, Zeldin has placed a heavy emphasis on crime. Hochul has made abortion a centerpoint of her campaign, though more recently she has sought to sell to voters her record on public safety in response to Zeldin. With both sides seeing a surge in spending and campaigning in the final days before Election Day, this race has proven to be competitive to the end. In this article, I'll review the main issues which define this competitive election, as well as both candidates' stances.
Public Safety
New York, as well as the rest of the country, has seen a rise in crime since the start of the pandemic. Lee Zeldin has made crime the central issue of his campaign, claiming that, if elected, he will declare a state of emergency on his first day in office to suspend certain legal changes the State Legislature has passed in recent years, such as a law that would prevent prosecutors from seeking a cash bail on certain minor offenses. Zeldin has proposed repealing the bail changes in their entirety, as well as repealing the Less is More Act (which prohibits automatically sending parolees back to jail for minor violations) and the HALT Solitary Confinement Act (which prohibits certain types and lengths of isolation in prisons). He plans to hire more police officers, increase police funding, and toughen the parole process if elected governor. Zeldin has been a vocal advocate for the firing of Alvin Bragg, the current Manhattan district attorney, who has pledged to not seek jail time for certain low-level crimes.
Zeldin opposes gun-free zones as well as the 2013 ban on new sales of most assault weapons. He has been critical of red flag laws, which allow courts to restrict firearms to people who are deemed a risk to themselves and others, and was against Hochul's raising the minimum age of purchase for a semi-automatic weapon to twenty-one. Recently, Zeldin voted against the Active Shooter Alert Bill, which would set up a system to alert nearby people of an active shooter, and opposed a national ban on assault weapons. He has also called for teachers to be armed and trained to prevent school shootings.
While governor, Hochul has worked to boost services that help unhoused people with mental health issues, announced plans to install cameras in every New York City subway car, increased the number of police officers in the subways, and made changes to the state's bail legislation to make it easier for judges to set bail in certain cases. Hochul has focused on confiscating illegal guns, slowing the flow of interstate gun trafficking, expanding the state's red flag laws, raising the minimum age to purchase a semi-automatic weapon from eighteen to twenty-one, and limiting areas in which New Yorkers can carry concealed firearms. Hochul has increased funding for local law enforcement and community groups dedicated to preventing gun violence and other crime.
Though Zeldin has decried the state's bail laws and announced plans to repeal "cashless bail," there is scant evidence to support that bail reform has contributed to recent crime increases. Rearrest rates have remained extremely low just as before the 2019 bail reform law and the percentage of people showing up to court has actually risen after bail reform. It should be noted that reduced incarceration rates have also saved taxpayers hundreds of millions of dollars.
Reproductive Rights
Hochul has been a long-time champion of reproductive rights. During her tenure as lieutenant governor, the state passed the Reproductive Health Act, which enshrined the now-abolished protections of Roe v. Wade into state law. As governor, Hochul has allocated tens of millions of dollars in additional funding for abortion providers and, following the Supreme Court's decision to overturn Roe v. Wade, she lead the effort to pass the Equal Rights Amendment through the state legislature, which, among other things, enshrines abortion rights into the state Consitution. The amendment will now need to pass another legislative class and then be passed via voter referendum.
In contrast, Zeldin has shared his anti-abortion beliefs throughout his career, lauding the Supreme Court's decision to overturn Roe v. Wade as "a victory for life, for family, for the Constitution and for federalism." As a member of Congress, Zeldin has voted against the Women's Health Protection Act of 2022 and the Ensuring Access to Abortion Act of 2022, both bills which would protect the right to abortion nationwide. He has also repeatedly voted to defund Planned Parenthood and has been a proponent of criminalizing abortion after twenty weeks of pregnancy. Additionally, he voted against the Right to Contraception Act, which would federally protect the right to birth control. Zeldin has pointed out that with a Democratic-controlled Legislature, he would be unable to change the state's abortion laws, though he has suggested that he will appoint an anti-abortion health commissioner if elected. Doing so could allow the Health Department to cut funding for reproductive care and limit who could provide it.
Economy
Polls have consistently shown that inflation is a primary concern for voters, and the two candidates have starkly different visions for improving the state's economy. If elected, Mr. Zeldin has indicated that he plans to sharply cut the state budget and approve the "largest tax cut" in state history, including eliminating the state's inheritance tax and income taxes. Zeldin has also called for expanding fracking along New York's Southern Tier to boost the economy.
Ms. Hochul has stood by the state's current tax rates and has argued that she has provided steady leadership to help the state recover from the pandemic. Hochul points to her tax cuts for the middle class and small businesses, expanded child care subsidies, and a massive deal with Micron, an American computer chip maker, to spend up to $100 billion to build a giant factory complex upstate. Micron has estimated that this project will generate around 50,000 jobs over the next two decades. Over the summer, Hochul also worked with lawmakers to suspend some of the state taxes on gas through the end of the year (around 16 cents per gallon). Hochul has pointed out that Zeldin voted against the Bipartisan Infrastructure Bill and the Inflation Reduction Act.
Climate
As governor, Hochul has championed offshore wind production, solar power, and hydropower in the state and has pledged to set the state toward net-zero emissions by 2050. She has signed into law bills that have enacted new energy codes to reduce greenhouse gas emissions and worked with the Legislature to get the Green Jobs Environmental Bond Act on the ballot, which is talked about in more detail at the end of this article. Hochul has moved to require all new passenger cars and trucks sold in New York to be zero-emission by 2035 and has blocked upgrades to gas-fueled power plants. However, the current governor has resisted a bill that would require the New York Power Authority to phase out fossil fuels. On the other hand, Zeldin has advocated for repealing the state's ban on fracking, has pushed for approving new gas pipelines, and wants to suspend the state's energy taxes. Zeldin has been an outspoken critic of the congestion pricing plan for New York City, which would charge drivers a toll for entering the busiest section of Manhattan. Hochul has pushed for the implementation of this plan in order to reduce emissions from cars, reduce congestion, and help fund greener public transportation. The League of Conservation Voters has consistently given Zeldin one of the worst environmental records among government figures in the state.
Education
Zeldin has outlined his plans to increase parental oversight over the state's education system and restrict conversations in schools about race, sexuality, and gender identity. Zeldin has said that he wants to ensure that "age-inappropriate sex education material is not taught in school" and that we should "teach students about how and why they get to live in the greatest nation in the history of the world." He has repeatedly said that he wants to increase parental involvement in student education, though he provided few specific details. Zeldin is opposed to requiring COVID-19 vaccination for school children or anyone else, and supports religious exemptions for childhood vaccinations. Zeldin has also vowed to protect Hasidic Jewish private schools from governmental influence, which have come under controversy due to their lack of emphasis on secular education, according to the New York Times. Hochul has signed into law a bill that requires the state Education Department to make sure schools are meeting Holocaust education requirements, which Zeldin also supports. She also supports a bill that would require schools to teach about Asian American history. Regarding the issue of oversight of Hasidic yeshivas, Hochul has avoided taking a clear position.
Democracy, Political Reform, and Government Ethics
Lee Zeldin is a staunch supporter of the former President Donald Trump. When Congress met in a joint session to certify the 2020 presidential election on January 6, 2021, Zeldin objected to the results in Arizona and Pennsylvania, two states that Trump lost. In January 2022, Hochul signed into law a bill that extended New York's temporary rule that allows anyone afraid of catching a communicable disease to vote via absentee ballot. She has also signed into law several bills that reform the absentee ballot application and vote-counting process. Both candidates have signaled support for term limits for statewide officials.
Hochul has faced significant questions from Zeldin about her ethics. Zeldin has accused her of pay-to-play corruption, specifically noting a $637 million contract that the state brokered with New Jersey-based company Digital Gadgets for 52 million home COVID tests. The founder of the company and his family have given over $290,000 to Hochul's campaign and have hosted fundraisers for her, according to the New York Times. Hochul has denied any connection between the contract and the campaign donations. Additionally, Hochul's first Lieutenant Governor, Brian Benjamin, was forced to resign over federal corruption charges (allegedly committed during Benjamin's time as a state senator). Hochul has countered, pointing out that Estée Lauder heir Ronald Lauder has given over $10 million to super PACs supporting Zeldin.