Uvalde School District Suspends Police Department as Superintendent Resigns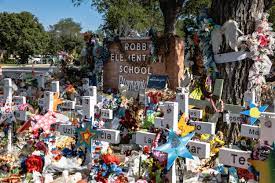 Months of protest over the handling of the Robb Elementary School shooting have led to the suspension of the district's entire police department on October 7, 2022. The determined families and friends of the victims had demanded accountability for the tragic event last May, holding signs outside school administrative buildings. 
Brett Cross, the father of a victim, remained outside the school administrative building for over a week in late September. He slept there every night until the school district finally issued a press release announcing the termination of an officer. In celebration, Cross posted "We did it!" on Twitter (CBC/Radio Canada).

The terminated officer, Crimson Elizondo, was one of the 376 law enforcement officers that waited 76 minutes to intercept the shooter. After the event, many officers resigned or were fired, including Elizondo. Over the summer, she had been hired by the district police department to protect the schools. When a parent recognized her as one of the officers present in May, they became vocal of their disapproval.
Parents argued that the officers who responded poorly to the shooting shouldn't be given the responsibility to protect their children. Steve McCraw, the head of the Texas Department of Public Safety, called the response an "abject failure" (CBC/Radio Canada). Furthermore, a report published in July concluded that "the scene was chaotic, without any person obviously in charge or directing the law enforcement response"(Texas House of Representatives).
The report also pointed out that the failure to communicate affected the outcome. The lockdown was not announced over the school intercom, and poor connectivity delayed an alert to the teachers' phones. Additionally, the numerous lockdowns at the school due to nearby bailouts or vehicular chases between law enforcers and illegal immigrants had "dampened everyone's readiness to act on alerts"(Texas House of Representatives). 
Neglecting safety policies like keeping doors locked was ultimately fatal. Many criticized Hal Harrell, the superintendent of the Uvalde Consolidated Independent School District, for this failure. Some pointed out Harrell's lack of leadership in the weeks that followed the shooting, while others condemned him for the school's unpreparedness. But after "much prayer and discernment," as described in a Facebook post, Harrell announced his retirement after 31 years in education (The Texas Tribune).
Harrell's announcement coincided with the suspension of the school district's police department. He followed other elected officials who are stepped down after the shooting. And while the school district looks to improve itself, the community is still grieving.