No Social Distancing for 40,000 ICE Detainees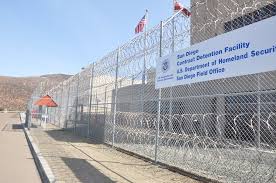 During the Coronavirus pandemic, we are told to stay in our homes, keep our distance, and wash our hands. The last place anyone wants to be is far from home, crammed with hundreds of other people, and lacking access to adequate sanitation and medical care. Yet this is exactly the situation of 40,000 immigrants and asylum seekers currently detained by the Department of Homeland Security in over 200 detention centers across the United States. 
Those stuck in the detention center in Tacoma, Washington reveal a frightening reality: not enough soap, and no hand sanitizer. 70 or 80 people sharing 400 square meters of space. Three toilets, four urinals, and showers shared by all of them. This is life in many detention centers.
Not only does this pose a grave risk for the detainees, but it also threatens the health of Immigration and Customs Enforcement (ICE) – contracted employees working in detention facilities. Amnesty International advocates for the release of as many immigrants as possible, as a large majority of them have family or other sponsors in the U.S. that they could shelter with.
Detainees across the country have initiated hunger strikes to demand "humanitarian parole", or temporary release into the country because of a crisis situation. ICE confirmed their first case of COVID-19 on March 24. As of April 4, at least 13 people in ICE custody were confirmed to have contracted the virus, as well as 7 ICE employees working in detention facilities.
There is immense fear within the detention centers. One detainee on hunger strike shared harrowing thoughts from the facility in Tacoma, Washington: "We are adrift, about to sink, because if there is one person to be infected, in our unit we would all perish… We see how guards don't have the most minimum idea of what safety or medical care means. Here, all of us are going to pay the consequences."
Based on a 2020 report by Amnesty International on "The Looming COVID-19 Disaster in United States Immigration Detention Facilities"
https://www.amnestyusa.org/wp-content/uploads/2020/04/WeAreAdrift-1.pd