Are Airpods Worth Purchasing?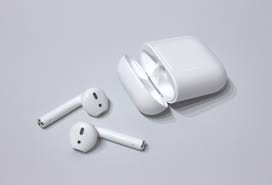 Apple AirPods have recently been attracting a lot of attention from the public. As one of, if not the most wanted gift of the 2018 holiday season, AirPods have both supporters and critics. But are AirPods worth it?
One of the differences between AirPods and other wireless headphones is that AirPods come with a charging case. While other wireless headphone companies have produced charging cases, the AirPods charging case offers versatility and fast charging. AirPods themselves have a five hour battery life, and the charging case extends that to twenty-four hours of listening. The charge that AirPods receive from the case is very efficient, giving three hours of listening after fifteen minutes of charging,
Another aspect of AirPods that separates it from the competition is its design. Apple wanted a sleek and practical design, meaning no cord connecting the two headphones together. Apple designed AirPods to fit everyone. They frequently stay on during training, workouts, or walking. With their design choice, the AirPods are easy to put on and take off. This design, however, has a negative effect on sound quality. AirPods do not have a 100% seal when sitting in the user's ear, which means a quality of sound will be lost.
AirPods also have features specific to Apple. Double tapping a headphone can play/pause song, skip song, revert to previous song, turn off AirPods, or bring the user to Siri. They also connect wirelessly with Apple and Android phones. Simply open the case near the phone and a display will appear with information about the AirPods. If they have been previously connected with that device, the AirPods will automatically pair with the phone.
Unfortunately, AirPods sell for the high price of $159.99 on the Apple website. But there are many alternatives to AirPods. Some headphones are smaller, have a cord connecting both headphones and others are just near replicas of the AirPods. They all, however, sell for a cheaper price. While they have less features or are of lesser quality than AirPods, many apt to buy those wireless headphones instead due to the price difference.
I have AirPods, and like many others, got them this holiday season. Personally, I really like them. Using wired headphones always limited where and when I could use headphones, whether it was the hassle of taking them out or the problems with wearing them. AirPods take the hassle away and offer the same quality of listening. Using only one of the AirPods at a time is also very practical. This allows me to listen and have a conversation while also listening to music. Overall, I have nothing poor to say about AirPods and therefore, I think that they're worth it.