Gandhi's Birthday Celebrated in Graphic Design Class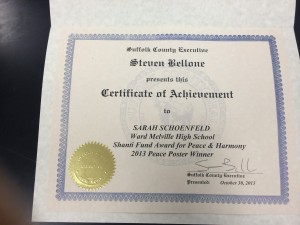 Hira Khan, Social Media Manager
October 10, 2014
"Be the change that you wish to see in the world"
Ward Melville Students as well as the world honored Gandhi's anniversary of his birth on October 2, the international day of non-violence.
The advanced graphic design class diligently worked on creating posters for the Shanti Fund, honoring the 144th birthday of Gandhi and the 14th anniversary of Gandhi's statue at the H.Lee Dennison Building in Hauppauge.
Junior Sarah Schoenfeld was selected the Shanti Fund as this year's winner for her poster design that she created in advanced graphic design class. Sarah honored Gandhi with his quote "freedom is not worth having, if it does not include freedom to make mistakes"
As well for the future, Sarah hopes to minor in Graphic Design in college as well as participate in her college's swim team.
Sarah's poster will be in the 2014 Shanti Fund calendar as well as an award ceremony will be held at the Suffolk County Executive office.
Congratulations, Sarah!