The Ball Family's Meteoric Rise to Fame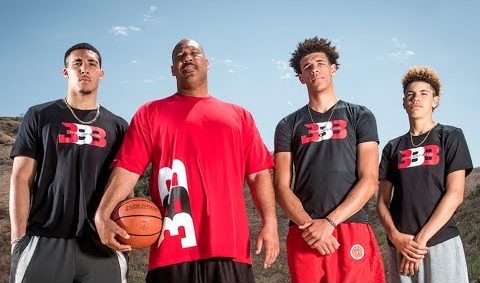 The Kardashians in sports?? Yep, that's the Ball family. Often dubbed the "Kardashians" of the NBA, they have recently dominated the spotlight of professional basketball.
Three years ago, the Balls were merely known for the basketball prowess of their three sons: Lonzo, LiAngelo, and LaMelo. Their rise to prominence started when the oldest son, Lonzo Ball, was recruited to play for the UCLA Bruins in 2014. In less than two years, both LiAngelo and LaMelo committed to UCLA, establishing a seemingly harmless relationship.
The family's patriarch, LaVar Ball, coaches his own amateur basketball team. In previous summers, LaVar and his three sons led a scoring machine that decimated opponents without playing much defense. Yet, off the court, LaVar has his own ambitions.
LaVar has not failed to monopolize on the success of his three sons. In 2016, he launched his own sportswear brand dubbed, "Big Baller Brand," known as BBB. The company has gained popularity through shoe deals with Lonzo and LaMelo, the oldest and youngest of the sons. Currently, the company sells the "Zo2 Prime Remix" and the "Melo Ball 1" shoes for $495 and $395 respectively, being way outside of the price range for most signature basketball shoes. The price of BBB apparel is also unusually high, with shirts setting customers back at least $50.
The high price to be a "big baller" has garnered significant media response, but what has brought even more attention to the BBB enterprise is LaVar's claims to his sons' future success and his flamboyant remarks about himself and his family. Backed by his own beliefs and practically no one else, he has stated:
"Back in my heyday, I would kill Michael Jordan one-on-one."

"Until I die, I will always think [Lonzo] is better than Steph Curry. He can be a 10-time MVP, I still don't think he's better than [Lonzo]"

"If Charles [Barkley] thought like me, maybe he'd win a championship."
These statements have led many people such as NBA commentator Stephen A. Smith to rebuke LaVar for his excessively showy and self-confident claims. LaVar even had a national spat with the President Donald Trump regarding LiAngelo. However, they have also brought more and more attention to the brand, increasing the popularity of BBB and the Ball family.
Despite LaVar's wild claims of his sons' future success, the future still remains unclear for the three Ball brothers. The father's ultimate goal is to have all three of his sons play for the Los Angeles Lakers. Lonzo is now a rookie and has been an underwhelming player to many. The two younger sons have recently been pulled out of school by LaVar to join a professional basketball team in Lithuania, foregoing both their UCLA commitments and relieving UCLA of a great burden. They'll take "the road less traveled" to fulfill their father's goal.
Regardless of future successes or failures, it is certain that the family will continue to attract the attention of sports media and basketball fans. And, just like the Kardashians, their adventures will all be documented on the family's very own reality TV show, "Ball in the Family."