Colonel Sanders is the face of Chirstmas?! Christmas traditions around the world
When we think about typical Christmas here in the United States we think about everyone gathered together in one house, sitting by the fireplace to get warm and enjoying wonderful Christmas delicacies such as turkey, ham, Christmas pudding and of course the all mighty gingerbread house. But this isn't what you'd usually call typical in other countries around the world. Today we'll be giving you a taste of 3 different countries spread around 3 different continents and how they like to celebrate the holiest day of the year
Japan
Now you may be thinking to yourself that a normal Japanese Christmas consists of sushi, teriyaki and all the other good stuff that we get at our favorite Japanese restaurant. But that isn't the case because on Christmas day Japanese people love to stuff themselves with Americas favorite fast-food fried chicken: KFC! Christmas in Japan isn't actually considered a national holiday because it is estimated that only one percent of the Japanese population is Christian so this tradition started as recently as 1974. The store manager for the first KFC in Nagoya Takeshi Okawara overheard some foreigners saying how they missed having turkey on Christmas day and that's how the idea hit him. Fast forward 43 years later KFC is selling Christmas dinner packages that range from a box of chicken which is worth 3,720 yen ($32) to a "premium" whole roasted chicken and sides for 5,800 yen ($51.6) dollars. The 25th of December is actually the busiest day of the year for KFC in Japan because over 3.6 million Japanese families sit down to enjoy some finger-lickin' goodness. That sure would put a smile on Colonel Sanders' face!
Christmas time can also can be considered a time for Love as Christmas eve resembles Valentines day here in the US. Young couples enjoy roaming the streets together and enjoying all the festivities you can find around the area such as the Christmas lights that can be found all over Tokyo and other cities and towns.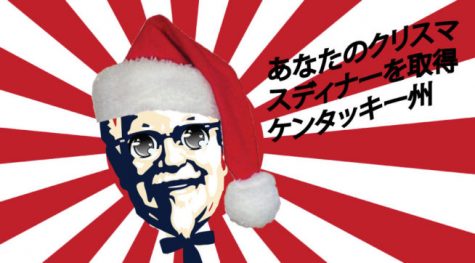 Australia
When you think about Christmas it's all about getting together with your friends and family in one place to celebrate the holidays while staying out of the frightening cold weather–well it's a little different in Australia. It's actually the middle of summer there! So forget those old Christmas songs about warming up next to a fire and get ready to put your bathing suit on and have some fun on the beach!
Christmas can also be a sign for danger as bush fires happen quite often because of all the humidity occurring all over Australia this time of year.
Often Christmas is celebrated poolside or beach side  and Australian families love to partake in sports together such as soccer, cricket, swimming and surfing. Most families try to be home together for Christmas and the main time of the day for the Christmas meal is lunch time. This time of year is perfect for some BBQ which of course mean some shrimp on the barbie (Australians call it prawns and they hate that it was popularized as a stereotype on this side of the world). Besides shrimp, which is usually the main course for most Australian families, they also love to barbecue lobsters, usually accompanied by fruit, most likely mangoes. From mango salsa for everyone to the famous Brisbane mango daiquiris for the adults Australia just can't get enough of Mangoes!
Sweden
Sweden just can't seem to get enough of the Christmas and holiday cheer! It starts off with St Lucia's on December 13th which tells us the story of a young Christian girl who martyred and killed for her faith in the year 304.
Usually the most common story told about is that she would secretly bring food to the persecuted Christians in Rome, who lived in hiding in the catacombs under the city. She would wear candles on her head so she had both her hands free to carry things. Lucy means 'light' so this is a very appropriate name. This story was told by monks who first brought Christianity to Sweden. Another fun fact about December 13th was that it was the Winter Solstice (shortest day of they year) in the old Julian calendar and a pagan festival of light in Sweden was made St Lucia's day. Nowadays St Lucia's day is celebrated by a girl dressing in a white dress with a red sash round her waist and a crown of candles on her head. Small children use electric candles but from about 12 years old, real candles are used!
Now we fast forward to Christmas eve when the main Christmas meal is eaten. They typically call it a  'julbord' which is a buffet that is eaten around lunch time. One of their most important things on Christmas Eve lunch is the cold fish which can be served in many different ways such as  gravlax (salmon which has been cured in sugar, salt and dill) and smoked salmon. Other selections include turkey, roast beef and 'julskinka' (a Christmas ham); cheeses, liver pate, salads, pickles, different types of bread and butter (or mayonnaise) or a popular potato dish called 'Janssons Frestelse' (matchstick potatoes layered with cream, onion and anchovies that is baked to a golden brown). After they've filled themselves up, they exchange presents and most Swedish families go to church early in the morning.
Another popular trend in Sweden is to guard your Christmas tree with straw goats! Straw is used to remind people that Jesus was born in a manger. In the city of Gävle, a huge straw goat is built every year for the start of Advent (special calendar used to count days till Christmas). It's 13m/43ft tall and takes two days to put up! It has a large metal structure on the inside and is covered with straw. The tradition started in 1966. The first Gävle Yule Goat was burnt down on New Year's Eve 1966 and ever since it's been the target for vandals. In its 50 year history it's only survived throughout the Christmas and New Year period about 12 times! December 25th isn't the end of the Christmas cheer either, it actually lasts until January 13 which is called which is called 'Tjugondag Knut' (Twentieth Day Knut) or 'Tjugondag jul' (Twentieth Day Yule) and is named after a Danish prince called Canute Lavard. On Tjugondag Knut it's traditional that the Christmas Tree is taken down and and left over cookies and sweets are eaten!
From Colonel Sanders being the new Santa Claus to burning down straw goats don't ever forget that Christmas is a worldly celebration that takes on many different forms of joy and fun!