Model UN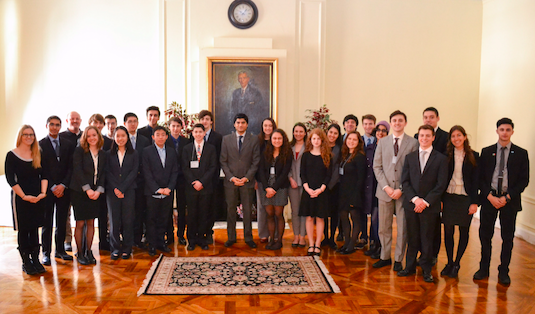 From March 15th to 17th, Ward Melville's Model UN visited the United Nations Headquarters in Manhattan to attend a collective conference with other Model UN clubs throughout the country and world. During the conference, students worked with others in moderated committee sessions and directly experienced life as a UN delegate.
Model UN has been a relatively new club to Three Village–it was only introduced last year to the junior high schools. "It's exactly as the name implies: a Mock United Nations," member Darren Tung says. "It's a club where people are assigned countries and debate as said countries to form blocs to pass resolutions to solve various world problems."
Kelsey Ge, a sophomore, explains why she joined: "Growing up, I had always heard current events from the point of view of the United States, and it wasn't until I joined Junior MUN in ninth grade that I was compelled to understand the other perspectives."
She says that joining the club was something originally out of her comfort zone "because I had always been steered in the STEM direction," but she wanted to improve her knowledge on both international relations and public speaking. "After a few weeks I began to comprehend the magnitude of the topics we covered and the importance of understanding them," she continues. "In Ward Melville, every week we look into a new topic with assigned countries and defend their viewpoints, which inevitably leads to unique conversations and interesting discussion."
Although they did visit the UN headquarters for the closing ceremony, the conference was held mainly at Hilton Midtown. The club listened to speeches from delegations within each committee, and saw guest speakers, including pop singer Demi Lovato and stars from the Smurf movie Mandy Patinkin and Joe Manganiello.
When asked about their favorite part of the visit–
Darren: "Probably my favorite moment during the conference was when I donated $50 to the Malala Fund, allowing my chair to sing and dance to "Let it Go." UN Headquarters was also a cool place, and I was surprised to see the Smurfs [and] famous actors in the newest Smurfs movie there promote the UN's Sustainable Development Goals for 2030."
Kelsey: "Overall, the experience was unforgettable for so many reasons, between meeting the Pakistani ambassador, meeting new students from other states and countries, visiting the UN headquarters, and becoming closer to people who are now some of my best friends. I feel that I learned so much in a short amount of time and can't wait to go back next year!"