Reasons Why 2016 Didn't Suck That Much
"You're going to have only one thing on this list."
On a Thursday in 2016, Ms. Cowan stands at the front of the classroom and faces the Kaleidoscope members that are seated for today's meeting. She is referring to the article suggestion that we have decided to work on: a list of reasons why 2016 didn't suck.
"Can I add an article on why 2016 sucked?" Sam asks, aware that such a list would be much longer.
It's been unanimously agreed upon and emphasized constantly in the media that this year was not a great one. For you, it could be because you were upset about this year's election results. Or, you were saddened and shocked at some of the tragedies that occurred. You could have been appalled by the ridiculous and absurd news the media was feeding you, or were annoyed with all the "dank memes" polluting the internet (what's the deal with Harambe?), or the deaths of your favorite celebrities. Perhaps… perhaps it was personal for you. Maybe your grades have been not that great this year; maybe your girlfriend broke up with you; maybe it's that one teacher who just really hated you — okay, listen, whatever it was that has you sitting by yourself today at lunch with a pouty face, fuming over the terrible events in your life this year, we get it. Most of us can agree that 2016 was rather awful in many ways.
But although 2016 definitely had its share of negative, saddening, and even absurd news, there were also many notable achievements and triumphs that cannot be ignored.
Science/Environment:
ALS Breakthrough:

Remember that viral trend from 2014, the ALS Ice Bucket Challenge, in which millions of nominated participants dumped buckets of water on themselves and then nominated others? This phenomenon caused a huge rise in donations and awareness of ALS, and ultimately resulted in a breakthrough in ALS research. In July of 2016, Project MinE, one of several organizations that benefitted from the donations,

identified a new gene associated with the disease, which could lead to much needed new possibilities for treatment.
Ozone Layer

: A study from scientists in the United Nations shows that the ozone layer may be repairing itself; part of that comes from efforts to get rid of aerosol chemicals.
Endangered Species

: Pandas and manatees are off the endangered species list and have now moved on to the "threatened" list. Additionally, wild tiger populations are increasing for the first time in a century.
Cure for Multiple Sclerosis?:

A new technique that uses

chemotherapy to remove damaged immune systems entirely and a transfusion of bone marrow cells has seen tremendous, positive results. It may be a great resolution to curing this terrible disease.
Paris Climate Agreement:

This agreement between 195 countries was put into action this year and aims to deal with greenhouse gas emissions, obtain a universal agreement on climate and limit global warming to well below 2℃ change in temperature levels, and pursue difference of less than 1.5 ℃. In addition, financial aid will be provided to developing countries. The Paris Climate Agreement sends a strong signal to world capitals and financial markets that they must drastically increase our investments in clean energy, and reduce fossil fuels. Hopefully, the world will step up to create a brighter, less polluted future.
Zika:

While it is still a health issue in parts of the world, the Zika virus is no longer considered a global emergency by the World Health Organization as not a global issue throughout the world. A major improvement, considering that Zika caused great panic to many people, with some even wanting the Rio Olympics to be cancelled because of the virus' potential danger.
Ebola Vaccine: An experimental vaccine against the deadly Ebola virus has shown promising results, with a 100% protection rate. Called rVSV-EBOV, the vaccine has prevented the development of Ebola in all the people it was given to in field tests. This development could be vital in preventing future epidemics and could save many lives.
Entertainment/Popular Culture: Regardless of whether you like these particular shows, movies, or artists, there was a lot of amazing innovation and creativity in 2016. There's surely something that you either like, loved, or obsessed over this year.
Hamilton:

Winner of eleven Tony awards, this fantastic and innovative musical tells the story of an underrated Founding Father, Alexander Hamilton, and how he shaped the future of America. By combining classical Broadway elements with modern hip hop, a modern masterpiece was created. How could we forget the musical that's been talked about nonstop? It's the musical that has turned the world of Broadway upside down. Alright, we'll stop with the puns, but we won't throw away our shots.
Stranger Things:

This sci-fi show on Netflix became everyone's Halloween costume this year (shout out to the waffle companies who must be really happy about how many people dressed up as Eleven). Set in the 1980s, the series tells the story of the mysterious disappearance of

Will Byrer. While his mother, Joyce, conducts her own search with a police officer to find Will, his friends — Dustin, Mike, and Lucas — discover a psychokinetic girl that claims to know Will's whereabouts. As the truth is uncovered, they awake to a shockingーoh, wait. Spoilers.

The television show will begin its second season next year.
Netflix Shows:

Other than

Stranger Things

, there were many shows on Netflix that captured America's hearts and ruined all hopes of being productive. From original series such as

Orange is the New Black, Unbreakable Kimmy Schmidt,

and

Marvel's Daredevil

, to shows that originally aired on television but are now available on Netflix such as

Breaking Bad, The Walking Dead,

and

Sherlock

, there was an overwhelming amount of outstanding material to binge-watch, in the year of "Netflix and Chill".
Children's Movies

: Disney's

Moana

and

Zootopia

captured the hearts of young and old audiences alike. Fans of Finding Nemo particularly were nostalgic when

Finding Dory

came to theaters and audiences of all ages learned to "just keep swimming" again with their underwater friends.
Fantastic Beasts and Where to Find Them: Fans of the beloved Harry Potter franchise were thrilled to find the magic of the wizarding world back on screens again. This thrilling movie set in the twenties is filled with likable and quirky characters that cast a spell on audiences.
Two new Star Wars Movies

: The films,

Rogue One

and

The Force Awakens

, brought spectacular appeal to audiences, notably with a new diverse set of characters and the return of old characters, such as Han Solo.
Leonardo DiCaprio's first Oscar:

The star of famous movies such as

Titanic

,

Inception

,

The Wolf on Wall Street

,

Romeo and Juliet

, and

The Great Gatsb

y won his first Oscar this year for his lead role as Hugh Glass in

The Revenant

. Although a great accomplishment on the actor's behalf, it is also the death of an iconic internet joke. Tumblr, you served us well.
Captain America: Civil War

: It's all about Bucky.
Deadpool

: What's to love about a superhero, no,

anti

hero, in this movie filled with action, vulgarity, morbid comedy, and moments that break the fourth wall? A lot. Did we also mention Ryan Reynolds is in this film?
Lemonade

: This studio album by Beyonce won nine Grammys and was number one on

Billboard 200

. Slay, Queen B. Slay. 
Sports:
Rio Olympics

: Thousands of Americans were glued to their TV screens as they watched the United States gymnastics team take on the gold in Rio, in addition to other victories in men's swimming and women's swimming.
Chicago Cubs

: It took them 108 years, but the Cubs actually

won

this time. The Chicago Cubs finally won their World Series title this year, something they had not been able to achieve since 1908.
Politics:
Six women made history on election night

: While Hillary Clinton wasn't able to shatter the glass ceiling as she had promised in her campaign, three other women — Kamala Harris, Catherine Cortez Masto, and Tammy Duckworth — were elected to the Senate, and two other women — Stephanie Murphy and Pramila Jayapal — were elected to the House of Representatives. Ilhan Omar was also elected to Minnesota's legislature.
Victory at Dakota Access Pipeline

: Permits were denied for the construction of the Dakota Access Pipeline, a pipeline that protesters had argued would contaminate drinking sites and disrupt sacred burial sites for the Standing Rock Sioux reservation.
Bill of Rights for Sexual Assault Survivors:

In October, President Obama signed a law that gave survivors basic rights; some of these help regulate the handling of sexual assault cases and guaranteed access to rape kits.
Speaking of Obama…

The Obama/Biden memes. You may have varying opinions about President Obama and his vice president, but you have to admit that the memes are funny.
Others:
Starbucks was able to figure out a method that minimizes food waste and donates perishable food in a safe manner.
Pokemon Go came out. But we're not exactly sure if that's a

good

thing… it's rather odd to see people wandering neighborhoods looking for Charizards.
The United States military issued a new policy that allowed female service members twelve weeks for maternity leave.
Three states removed the tampon tax; these states include New York, Connecticut, and Illinois.
In the United States, high school graduation rates are the highest they've ever been, and the teen birth rate is dropping.
This list though, is incomplete, and these are all things that can be found through a simple search on Google.
2016 has not been a completely miserable year. Like all years, it has its ups and downs. There were many tragedies, but there were also miracles. So why have we not paid attention to those miracles? It could simply be the way humans are, an issue in the brain known as the Negative Bias problem. With this condition, people remember negative details better than they remember the positives.
When you had that bad grade etched in red ink on the corner of the test that Monday, you forgot that today was your brother's birthday and that you and your family were going out to dinner at the restaurant the two of you liked.
As he blew the candles and the smoke began to dance out of the burnt tips, you forgot about the lights that danced in his eyes as he made a wish and the joy in the words sung before the cake was cut. Your thoughts were shrouded with the smoke from melting wax and the clouds of shame and hopelessness.
When your teacher yelled at you that one day in class, you spent the next periods flushed pink with embarrassment. You forgot that this was the same teacher who smiled as he read your essays and encouraged you to keep working hard because he was proud of the work that you were able to make as a student in his class.
When your significant other broke up with you, all that was in your mind were the words they said at the break up, the lies they made to you, the signs that you should have noticed, but you forgot about those happy memories you shared, the memories that still make you smile when you look back, even just a little.
When you and your parents got into an argument, hurling words and screams at each other, you stomped into your room and didn't think of those moments where your parents held you up on their shoulders, the time they gave up to watch you perform at your first school concert, and those presents they bought for you during the winter holidays, just to show that they cared.
When a loved one passed away, you sat numb in shock and all that swarmed in your mind were the questions of why and how it could have happened. But as you mourned the person's absence, you didn't stop to think of the friends that sat next to you, who all tried to comfort you and make sure that you were okay.
Have you ever stopped and thought about how thankful you were for those people? They were in your lives. They are in your lives, and amidst your bad days, you've made happy memories with them. And while 2016 might be your worst year ever, just remember that in that year, you were able to spend it with the people that meant the most to you.
The tears you shed one day will turn to laughs you'll make on another. So raise a glass to those brilliant moments of 2016 and remember how powerful one smile can be.
Now that we're done with the substantial news of the year, we'd like to end this article with some memes. Whether or not you're annoyed by the integration of memes into popular culture this year, you have to agree that they've become extraordinarily influential.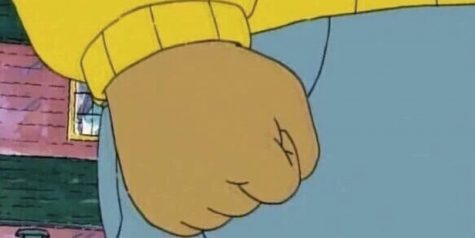 A list of some memes from 2016, in no particular order:
Arthur's fist

Pepe the Frog

PSAT and SAT memes

Kermit vs. Evil Kermit

Sad Kermit

Exploding Kid

Damn, Daniel

Ted Cruz the Zodiac Killer

Bernie vs. Hillary

Crying Jordan

Dat Boi

Spicy Boys

SpongeGar/Spongebob Caveman 

"Haters gonna say its fake"

Fake concert events on Facebook

Sad Ben Affleck

"Don't talk to me or my son ever again"

Harambe

"Get a man who can do both"

"This is the ideal male body"

Donald Trump

"Name a more iconic duo"

Confused Mr. Krabs

"Tea Lizard"/Kermit sipping tea

"Dropping hints that I'm single"

"J. Cole went platinum with no features"

Confused math lady

Dramatic Entrance

Bone apple tea

Mannequin challenge

Obama/Biden

100 layers of nail polish challenge

Flipping the water bottle

"I would very much like to be excluded from this narrative-"

Jimmy Kimmel's Mean Tweets

Doctor Strange jumping

Hodor/Hold the door

Mark Hamill and Daisy Ridley

Phelps' face/Michael Phelps' intense stare

Ken Bone

Birdman

Peach emoji

"Sharing this cat gets you kicked off of Facebook"

Uncle Starbucks

Petty Skai Jackson

We are number one