Letters to Paris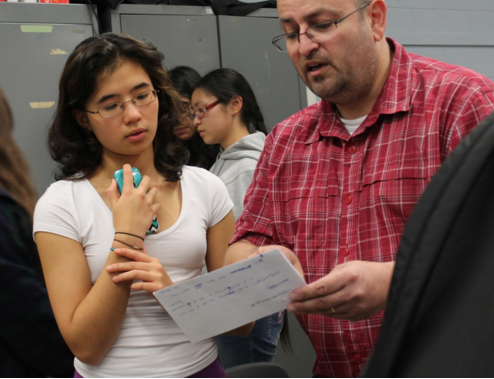 Soyez courageux, soyez unis. "Be brave, be united," was a message, among many others, that was sent last Monday from Ward Melville to the victims of Paris after a recent tragic attack on innocent spectators in the Bataclan concert hall, the Stade de France, and other restaurants in the region. These messages were translated to French and sent from Ward Melville students to the Parisian victims in hopes of aiding them and lifting their spirits. These messages came from WBLI, where BLI radio personality John Mingione filmed the students. Mingione, a Ward Melville graduate of 2007,  was the first to create the renowned 'senior video,' and one of his videos became viral. BLI took notice of him, and now he's doing what he loves – making videos, interviewing people on the radio – at the popular station.
Fans of WBLI sent in messages they wanted to deliver to the Parisian victims, and BLI needed a translator. Mingione sent a message to yearbook teacher Ms. Weisman, and she and foreign language teacher Ms. Quiros gathered together French students to translate and record messages from English to French that BLI was going to send to a French radio station.
"Whenever I need something last minute I know that Ward Melville will always have my back forever," Mingione says. "I reached out to Weisman, and I wasn't sure, because it was on the same day that I needed the students. However, she replied in two minutes. I knew the Ward Melville students would come through, and Ward Melville is like my family; I always feel welcome."
Ms. Quiros co-ordinated the translation of the messages with help from Mr. Jordain from the science department.  It was a hectic and frantic afternoon after school, as teachers and students came together to translate and record the messages.  The students worked diligently with Ms. Quiros and Mr. Jordan for what all considered an important cause.
Follow this link to watch the video http://www.wbli.com/news/entertainment/morning-show/long-island-paris/npPrM/ or visit WBLI on facebook to see the video.