Ward Melville Student Recognized for iPhone App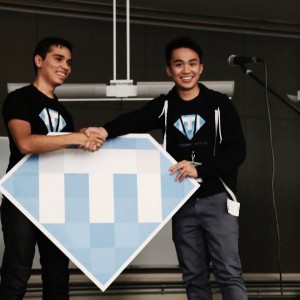 This past summer, senior Miguel Guerrero received the first place prize at the MakeGamesWithUs Demo DAY NYC at Grand Central Tech Building for his game, Evolve. Evolve is an evolutionary game in which players guide organisms away from harmful obstacles and towards food sources. The initial single-celled organisms "evolves" throughout the game. Players have the option of upgrading and personalizing their organism at the end of each level.
Guerrero's programming began in 2011 with the design of a website for a San Francisco bus company. Combining his passion for coding with his enthusiasm for Minecraft, a sandbox indie videogame, Guerrero established a Minecraft server, Meepcraft. Unlike other servers, MeepCraft is able to support many simultaneous gamers for extended periods. He has extended his business, employing developers and purchasing server machines in Chicago. Through the sale of game upgrades, Guerrero ensured the sustainability of the site. Since 2012, over one million players have visited MeepCraft. Recently, the site also surpassed five million views.
The culmination of Guerrero's programming was the design and development of his app, Evolve. Over the past summer, Guerrero learned about the different aspects of product development at MakeGamesWithUs (MGWU). MGWU teaches courses at high schools, UC Berkeley and MIT in addition to its summer course. Guerrero views the program as the motivation necessary for fashioning his game. He wrote thousands of lines of code. Guerrero believes designing a game is a form of art. He explains, "Making a game is sort of like making a work of art. It is important not only to mind the aesthetic detail but also to balance gameplay elements and characters in a way that is appealing to the viewer." WM alumni Ray Chen and senior Caroline Vance created the graphics and senior Devin Cowan composed the music.
Guerrero is working on several other projects, including a vertical farming simulator called Agropolis. Look for Evolve in the App Store in the upcoming months.