Applied Math Collaborative's First Guest Speaker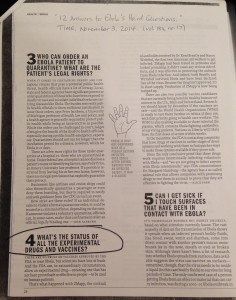 By Eleni Aneziris, Staff Writer
On Thursday, October 13, 2014, the Applied Math Collaborative (AMC), led by AP Statistics teacher Mrs. O'Brien, invited Dr. Ruth Reinsel as a guest speaker to educate students about the use of statistical procedures in the real world. Dr. Ruth Reinsel is a professor in Stony Brook University's Department of Anesthesiology, and has published more than 75 papers over her career. Although her work primarily focuses around cognitive neuropsychology, she uses applied statistics to analyze data in all of her research publications.
Dr. Reinsel's presentation focused primarily around the use of statistics in finding a hypothetical cure for Ebola. First, she explained what Ebola is, where it is prevalent, and how it is spread. Then, she described the several steps it would take in order to get a hypothetical Ebola drug approved for use. Some of the steps she explained included in vitro testing, animal testing, and human testing. Additionally, she described some of the challenges that may be faced at each step of the procedure. For instance, during the human testing phase, it would need to be decided if the trials would be blocked by gender or age, and whether it is acceptable to try the drug on children and elders. In addition, there are several ethical dilemmas that come with the experimental design of drug testing, which would need to be addressed. Lastly, she described the statistical procedures that could be used to analyze the results graphically and computationally.
When asked what his favorite part of the presentation was, AMC member Yoav Jacob said, "I really liked learning about how drugs are tested and approved through the levels of FDA requirements. I didn't realize how much statistics, more specifically experimental design, was used in drug testing, in that many drug companies spend millions of dollars doing different tests on drugs to determine safety and possible side effects." He additionally commented, "I think because Applied Math Collaborative is made up of past AP Stats students, having a speaker (like Dr. Reinsel) who uses statistics in their everyday job, but is not specifically specialized in statistics, is better. I think it is more important that we learn how math can be used in the real world since we have already been exposed to what statistics is."
Because Dr. Reinsel's presentation was such a success, the AMC plans to invite more guest speakers to give statistics-related presentations. When asked about the club's plans for the future, Yoav said, "As of now we have scheduled Mrs. O'Brien's daughter to give a presentation before Christmas break, and I am communicating with some individuals who work at Stony Brook to see if they are interested in presenting anything statistics-related."
Dr. Reinsel's Ebola informational handout.