Unfrozen: After 8 Weeks, Are We Finally Done with the Winter?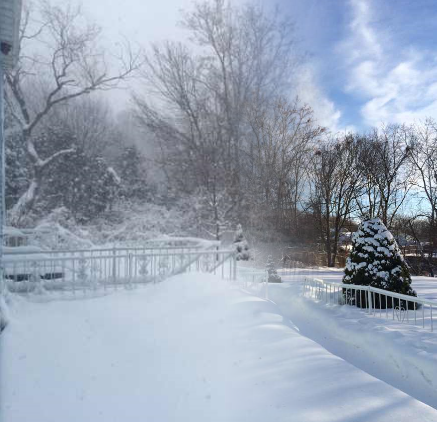 Elsa's emotionally-driven ability to voluntarily summon and dissipate ice can be very useful during this time of year. With the last of the winter's snow that took the form of a sporadic snowfall last Tuesday, we can look back on our truly hectic winter. Eight weeks of polar vortexes, winter storms, and changing jet streams have done calculable and incalculable damage for much of the U.S., the Three Village CSD is no exception. For us this meant four days of school missed, three shortened school days, a Science Olympiad states team disqualified, and a day lost to beloved Spring Break, to name a few notable damages. With the weather finally warming up for a change, we can ask ourselves why this year's winter was much more brutal than last year's, or any year for the matter. After all, four winter storms (Janus, Maximus, Nika, and Pax) caused three school abridgments and four cancelations in the 2014-15 school year, compared with Nemo and Saturn in the last school year, which only caused two school cancelations and a single two-hour delay, respectively. 
Experts believe the explanation to our colder and longer winter lies in changes to our jet streams. Due to rising temperatures in the Arctic, the jet streams above North America are affected dramatically in two respects.  One, the decreased difference in temperatures between the now warmer Arctic and North America causes the jet streams to oscillate up and down in lieu of traveling in ideal straight lines. This subsequently brings cold air farther south, which explains our colder-than-usual winter. Two, the now fluctuating jet streams increase the time the air takes to travel through them, which in turn make the now cold winter air tarry around longer than anyone would wish. Basically, the changed direction and speed of the jet streams over North America are making our winter, and possibly future winters, colder and lengthier than past seasons.
Aside from mass air-travel cancellations, road accidents, and billions of dollars' worth of other damages, how did the foursome of winter storms really affect Three Village? The school suffered the loss of several school days – enough to remove the last day of our Spring Break from the calendar – and as bad as this may seem, this is much more lenient than last year's losses. Although only three days were omitted by winter weather during the 2013-14 school year, this is not counting the six days lost due to Hurricane Sandy back in November of 2013. So, in hindsight, the school district is doing better than it was last year. We can all take a small breather in regards to possible harm to future academic examinations like notorious AP exams.
However, not all school entities escaped with as much luck. The chaos and disorder brought along by this winter weather has also had a significant impact on Ward Melville High School's scandal with its Science Olympiad States Team. The winter weather delayed the team's registration fee from being submitted on time, which resulted in its dishonorable disqualification.
For more in-depth details of the scandal, see our related news article of the event here.