59th Annual Grammy Awards: Adele, Beyonce, and Everyone Else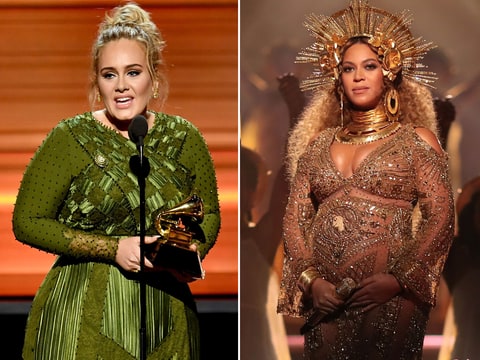 On February 12th, 2017, the 59th Annual Grammy Awards ceremony was held at the Staples Center in Los Angeles. Hosted by James Corden this year, the ceremony recognizes the best recordings, compositions and artists, as chosen from a list of nominations. It was certainly an exciting night, with a plethora of stunning performances by many talented artists, surprising results, and tributes to music icons that had passed away this year.
The show featured a fierce contest between two exceptional women, Adele and Beyoncé. Both, icons of pop culture with huge followings, faced off in each of the top three categories: Song, Album, and Record of the Year. Ultimately, Adele won all three, and she actually won all five Grammys she was nominated for. On the other hand, although Beyoncé's album Lemonade won Best Urban Contemporary Album, and "Formation" won Best Music Video, she failed to win Album of the Year for the third time. She currently possesses 22 Grammy Awards, but only 4 come from all-genre categories.
After last year's #GrammysSoWhite controversy spurred artists such as Frank Ocean to boycott the Grammys, Beyoncé's loss seemed to exemplify the point made by many critics. Many people complained about how black artists were mistreated in the main categories despite displaying excellence at the same level as their white counterparts. However, others argued that music is a subjective matter and that Adele's soulful music is award-worthy as well. Her music is more suited to the traditional tastes favored by the Grammy's' voting members, while Beyoncé's is thoroughly modern, and sometimes controversial. Yet, the fact that Beyoncé did not win in either of the top three categories, whilst Adele won all of them, can be considered a major upset. Beyoncé's Lemonade album is meaningful and relevant to the divides currently present in America in, and arguably also deserved to be recognized alongside Adele, as both are remarkable artists.
Adele definitely thought it was unfair. While accepting her award, Adele showed awareness of the Grammys' probable racial bias and cemented her appreciation for Beyoncé's music, admitting, "But I can't possibly accept this award…the "Lemonade" album, is just so monumental. Beyoncé, it's so monumental. And so well thought out, and so beautiful and soul-baring and we all got to see another side to you that you don't always let us see. And we appreciate that. And all us artists here adore you. You are our light."
Both Beyoncé and Adele also gave memorable performances that showed their skills and greatness, in different ways. Beyoncé's performance of songs from Lemonade like "Love Drought" and "Sandcastles" was regal and intimate. Adele covered "Fastlove" in a tribute to the late George Michael, but ran into technical problems, namely through a false start which threw her off. She stopped the show, insisting that she start again so that it could be done correctly. Her version was somber, played as a memorial to the star who died last Christmas
In 2016, many influential singers passed away. And in addition to Adele's tribute to George Michael, Bruno Mars skillfully played a tribute to Prince. Later, John Legend and Cynthia Erivo sang "God Only Knows" as a tribute to the plethora of musicians who died in the past year.
David Bowie, who died in January of 2016 after being a fixture in contemporary culture for decades, was honored posthumously, winning four Grammy Awards for Blackstar. Another notable winner was Chance the Rapper, who won Best New Artist, and whose song "No Problem" and album Coloring Book won Best Rap Performance and Best Rap Album, respectively. Coloring Book is the first streaming-only release to win a Grammy, following recent rule changes.
The 2017 Grammy Awards was a memorable night, showcasing the vast talent of various musicians. Regardless of the outcome, all the nominees should be proud of their achievements. Now, we can only look to the future. What new music are you looking forward to this year?